In this section, I will, from time to time review motorcycle products I have purchased and used. I don't buy gear that often, so this section may be a little sparce at times.
Helmets
HJC CL-12
I bought this helmet in May of this year(2001) to go with my new (to me) bike. I can tell you it is by far the best helmet I have owned. In all fairness, I have in the past always bought "entry" level helmets, and this one is considered a mid level helmet. It is the HJC CL-12. I paid $179.00 for mine at the local Honda dealer. This lid is light at 3.2 lbs., and after wearing it for about two months, is still snug. It has intake vents on the forhead and chin bar and two exgaust vents in the rear. It secures to the head via traditional "D" ring strap. Finish is in my opinion excellent. The shield seals nicely, however, I bought one of those reflective finish shields. The new shield must be double checked when you slap it shut as sometimes it will not seal completly. Shields are easy to install/remove with no tools needed. All in all, a very good investment.

John Hamp

Pipes

MAC Four into Ones w/cannister

When I went looking for an inexpensive pipe for my old 1982 KZ750E (yes, the one on the title page), I found what I was looking for with MAC. MAC won me over two ways, price and variety. THe MAC pipe comes in all chrome, chrome and black, or all black. Also you have your choice of a cannister or megaphone type muffler. I paid $244.00 for mine. After pricing some of the others, this was a bargain. Installation was a snap. Everything lined up and went right on. I got a small increase in mid-range power but that was about it. To be fair though, I never re-jetted my carbs, which can make a big difference. The pipe looks and sounds good. And after all, thats all I wanted it to do in the first place. I'm happy.

J. Hamp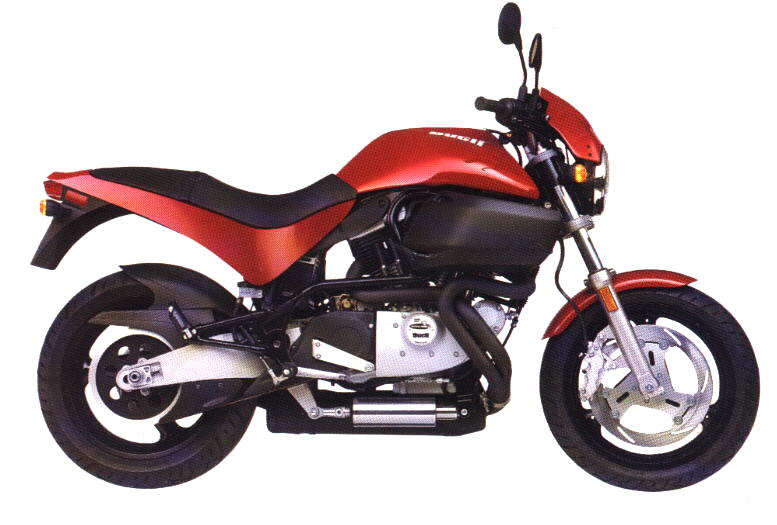 Buell M2 Cyclone
It seems to me that there is a certain anomosity among sport bike riders toward Buell motorcycles. They are scoffed at as not a REAL sport bike. I think there are a couple of reasons for this. One, it doesn't have a full plastic wrap fairing, two, its a Harley, and three, they haven't ridden one! I test rode one last year. By next riding season, I will own one. If you want to buy a bike off the showroom and take it directly to the track and be competitive, then yes, there are better bikes out there for that purpose. But, if you are like 97% of us, you want a bike that can do many things well. To me, thats the M2 Cyclone. It is the least expensive of the Buell line, and one of the best bang for buck deals going. The riding poition is slightly racey but comfortable. You can ride it pretty much all day and still get off of it without looking like the return of the mummy. Its flickeble wich makes commuting in traffic a snap. you can throw bags on it and tour if you want, or, because of its great handling, you go canyon carving with your GSX-R and R-1 buddies and stay right with them. So, is it a sport bike? Ride one and you will know....YES!